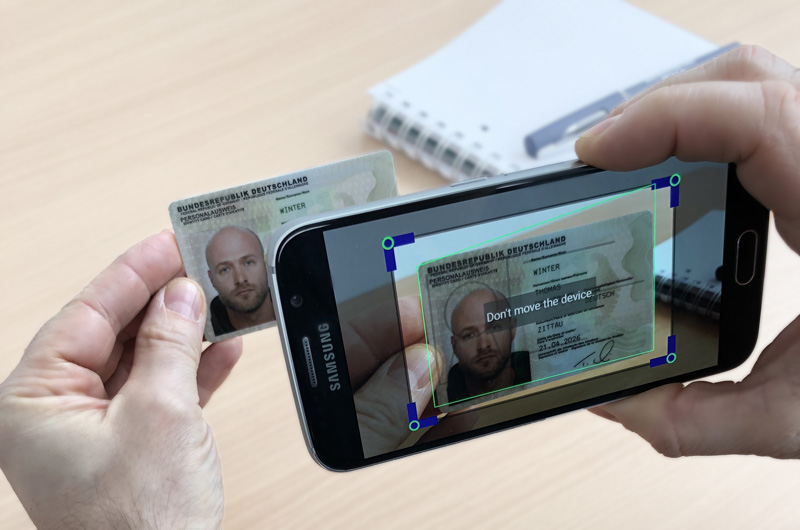 jenID Solutions is a provider of flexible software solutions that enable our customers to perform fully automated, fast and reliable checks of government-issued ID's. This includes passports, national IDs and driver's licenses. Furthermore, our accurate Face Matching technology (including Liveness Detection) ensures that the ID being verified really does belong to the person presenting it.
Capturing an ID and a selfie with our cutting-edge ID verification solutions is simple: the efficient process and the high usability are based on years of user experience. Since the whole verification process is fully automated, it only takes a few seconds and eliminates the human (error) factor.
Our comprehensive ID template database enables reliable ID verification of all European IDs and driver's licenses, as well as many current IDs from outside of Europe.
At jenID Solutions we are guided by the belief that protecting identities means protecting values. Our team consists of ID verification specialists and UX experts. We all are driven by the goal to serve our customers with secure, accurate and reliable authentication solutions without compromising speed or user experience. Choose the next generation of ID verification for peace of mind.
We aim to make the verification of ID documents an integral part of service-oriented business processes without compromising on speed. The verification has to be safe and reliable for all parties involved.
– We're in business to make the world a safer place.
jenID Solutions provides security software applications that enable public-sector and commercial clients to carry out fast and reliable verification of ID documents.
– We won't compromise on your identity and values – and you shouldn't either.
jenID Solutions is a highly qualified team with a combined experience of over 30 years in the field of ID verification. We have been involved in the development of many significant projects in this industry.
Accompany us on an exciting journey through international and innovative development projects and send your application documents to us.