Expert Q&A in ID Bulletin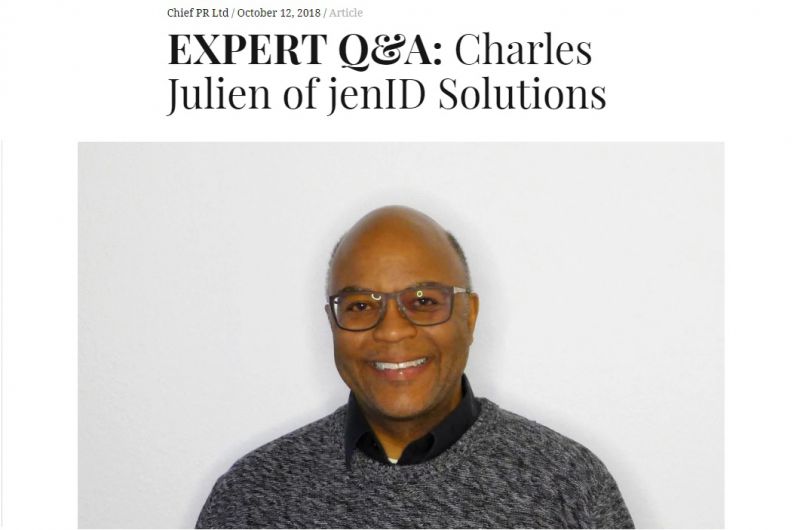 Please find the full article here
Charles Julien is responsible for International Business Development at jenID Solutions, a Germany based company specialising in the authentication and verification of government issued IDs. Today its software is used for a compliance, user on-boarding, age verification, fraud prevention and access control by organisations in the travel, gaming, telco and financial services sectors.
How did the company start?
The management of the company originally came from Crossmatch, a global leader in this type of technology for border control. Four years ago the members of the management team decided to set up their own technology and use it for a variety of use cases, not just border control. That's when jenID Solutions was born. Be it border control, law enforcement, rental cars, gambling or other adult industries; anyone who needs to verify the ID of someone else can benefit.
What makes jenID Solutions different from the other providers in the marketplace?
We are headquartered in Germany and very German in our approach! Our technology is excellent and highly efficient! I think the primary difference is that we do a very deep dive into the actual verification of security features. Any identity supplier can use a MRZ or do optical character recognition. That's not the hard part. It is what comes after that makes us special. We check on dozens of security features, many of which the naked eye can't see. Second, we're device agnostic, so you can use a smart phone, iOS, Android, etc or link to a dedicated scanner or a simple MFP/flatbed scanner. Third, we're 100% automated, whereas some companies in our space choose to outsource the verification process to another country, resulting in longer processing times.
Our software takes an image of the user's document and compares it to a standard template. We've captured all the standards of how each document for all of our jurisdictions should look. If the document deviates in any way, that's when the system will raise a red flag. We have a library of document templates that includes all of Europe and much of the rest of the world including, driving licences, national ID cards and passports. We are also able to offer face matching as an option. This means that we confirm that it's a valid passport by having the user take three live images that are compared to the picture on the ID.
Describe some use cases
KEMAS, a Germany-based, self-service kiosk provider, has been running some pilot projects that look set to revolutionise the car hire business. KEMAS is now able to offer fully automated key dispensers for vehicle fleets and car rental companies. By using Genuine ID Pro from jenID Solutions, an automatic driving licence check can be undertaken. The authenticity of the driver's licence is checked in seconds using white, infrared and ultraviolet light. If verification is successful, the car key is automatically dispensed from the kiosk.
Our software is also used by some of the most rigorous border control, law enforcement agencies in Europe, as well as other hire car companies. Because we are under non-disclosure, we are not permitted to divulge the names of the countries.
What do you think the future holds of identity authentication?
The fraudsters are not far behind us. What we're finding is that the sophistication of fraudulent documents is very impressive. Often the forged documents can look better that the originals.
As we continue to cover more geographic areas, we want to continue to stay five steps ahead of the fraudsters and therefore we're developing relationships with systems integrators. By building these connections we're becoming part of the bigger solution.
As we're seeing, digital identities are the way forward. It will be interesting to see how blockchain technology can be used as a method for people being able to identify themselves but not to the extent they are anonymous and can do bad things.
About jenID Solutions
jenID Solutions offers flexible software solutions that are tailored to the customer's needs and that allow customers to perform secure identity checks anywhere in the world in real-time. As such, the company knows who is accessing, using or borrowing its products. jenID thus contributes to the protection of end users' identities and prevents fraud.
Further information: www.jenidsolutions.com
Genuine-ID app in the Google PlayStore
Genuine-ID app in the App Store
Printable photos, free of charge: jenID photos
Inquiries about the affiliate program GENUINE PARTNERSHIP from jenID can be made here: www.jenidsolutions.com/en/partnerprogram/
Press contacts
Susanne Seefeld
Marketing
jenID Solutions GmbH
Moritz-von-Rohr-Straße 1a
07745 Jena
Tei.: +49 3641 316 1070
E-Mail: susanne.seefeld@jenidsolutions.com
Media Agency
Tower PR
Maelzerstraße 3
07745 Jena
Tel.: +49 3641 87611-80
E-Mail: jenid@tower-pr.com
www.tower-pr.com