jenID Solutions and TIP Jena are in the Press!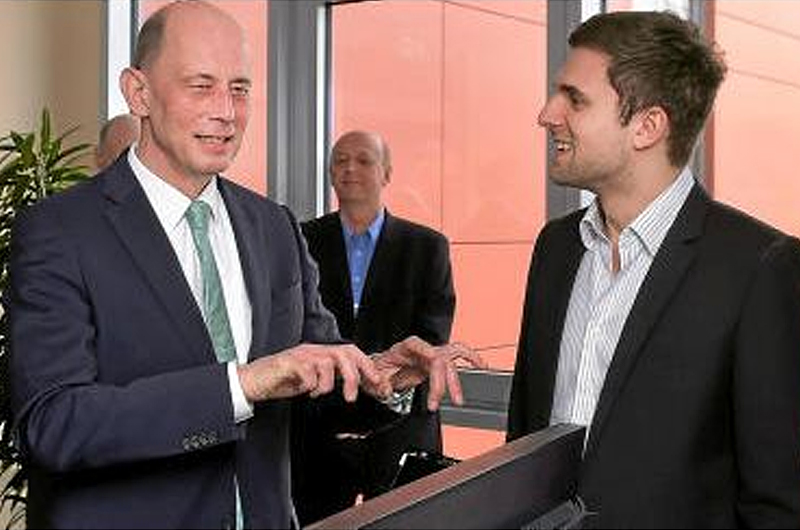 On March 16, 2016, the Technology and Innovation Park ("tip/Jena") celebrated their 25th anniversary and did so in the Company of many prominent people. One of the guests, Wolfgang Tiefensee, the Minister for Economic Affairs of Thuringia, was excited to hear about the success of the companies based in "tip".
jenID Solutions is one of more than 250 companies to have started their business in the "tip". The state government has subsidized the Project from the very beginning, in order to provide facilities and support for young technology-oriented and innovative firms that are dedicated to making the world an easier and safer place. The State of Thuringia provided more than 4 million Euro for the construction of the facilities in 2013. The total Budget exceeded 5 Million Euro. Mr. Tiefensee was happy to announce that the State of Thuringia will continue to participate in developing new innovative ideas related to this project. As one of the most ambitious companies within the "tip", jenID Solutions is very thankful about the generous Support that has been given to young businesses in order to boost the Thuringian economy.
About jenID Solutions
jenID Solutions offers flexible software solutions that are tailored to the customer's needs and that allow customers to perform secure identity checks anywhere in the world in real-time. As such, the company knows who is accessing, using or borrowing its products. jenID thus contributes to the protection of end users' identities and prevents fraud.
Further information: www.jenidsolutions.com
Genuine-ID app in the Google PlayStore
Genuine-ID app in the App Store
Printable photos, free of charge: jenID photos
Inquiries about the affiliate program GENUINE PARTNERSHIP from jenID can be made here: www.jenidsolutions.com/en/partnerprogram/
Press contacts
Susanne Seefeld
Marketing
jenID Solutions GmbH
Moritz-von-Rohr-Straße 1a
07745 Jena
Telefon: +49 3641 316 1070
E-Mail: susanne.seefeld@jenidsolutions.com
Media Agency
Tower PR
Mälzerstraße 3
07745 Jena
Tel. +49 3641 87611-80
E-Mail: jenid@tower-pr.com
www.tower-pr.com